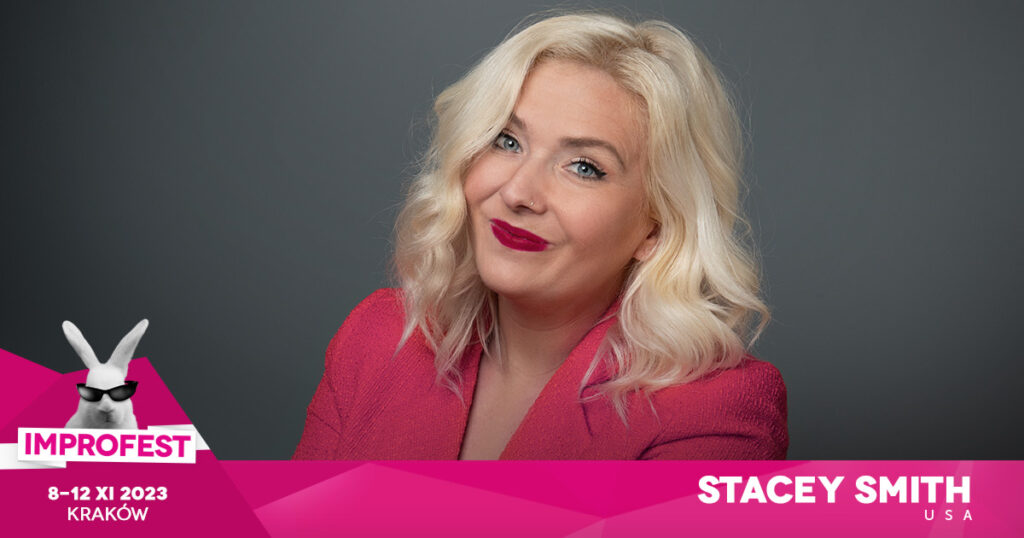 Stacey is a professional improviser, actress, event host, voiceover artist, teacher and writer. As a lifelong improviser, Stacey strives to spread boundless joy to audiences, students and members of the international improv community.
Recognized for her enduring positivity, explosive shows, and unparalleled work ethic, Stacey has worked in the field for over a decade. She is currently a mainstage cast member at the famous Boom Chicago Theater in Amsterdam and as of September 2022, she is the Artistic Director. Stacey is also the creator of Stacejam, an improvised solo musical extravaganza that has earned her critical acclaim.
Comedy, music, and theater have always been part of Stacey's professional and personal life. Originally from Long Island, New York, Stacey grew up in music and musical theater and studied theater and Speech and Music at university, later moving to Chicago to pursue a career in comedy. While working as a nanny, Stacey took improv classes at The Second City, iO and The Annoyance. She received her first full-time gig, touring on cruise ships with The Second City at the end of 2012.
As a performer, Stacey has toured with The Second City and was a featured performer for two of the company's theatricals, Life Hacks and #DateMe. She has performed shows with renowned talent like Jason Sudeikis (SNL/Ted Lasso), Brendan Hunt (Ted Lasso), Taran Killam (SNL), Arjen Lubach, Chris Redd (SNL), Amber Ruffin (Amber Ruffin Show), Terry O'Quinn (LOST), Kevin McDonald (Kids in the Hall) and Dickie Smothers (The Smothers Brothers).
Though she claims to hate travel, Stacey has performed and taught in Germany, The Netherlands, Norway, Denmark, Italy, Estonia, Greece, France, Belgium and Canada. She has made 67 appearances at 25 international improv festivals, many of them as a headliner.
As a teacher and education director, Stacey has created programs for multiple schools and has designed specialized workshops, including a program for young female-identifying students called S.H.E. (Sisterhood Humor Empowerment). Prior to joining BoomChicago, she taught and managed training centers in Chicago and Boston, including ComedySportz Chicago, ImprovBoston, The Second City and iO Chicago.
Aside from her work as a performer and teacher, Stacey has worked in Youth & Teen programs and Wellness Programs (Improv for Anxiety) and with seniors (Humor Doesn't Retire) at The Second City. Stacey has also done residencies at the Florida Studio Theater in Sarasota and Just The Funny Theater in Miami to help build education programs for local improv communities.
Stacey is also an accomplished comedy producer. In 2015, she founded The Chicago Musical Improv Festival at the iO Theater in Chicago, and prior to this she worked as an assistant producer on the Chicago Improv Festival, Chicago Women's Funny Festival, The Teen Comedy Fest and The Chicago Sketch Comedy Festival. Stacey has produced countless shows in Chicago, including the long-running musical comedy show The Musical Armando and Fraudway.
STACEJAM is a solo musical improv show created and performed by Stacey Smith.
With one suggestion, Stacey will create a world with dozens of characters and tell their stories through scenes and songs.